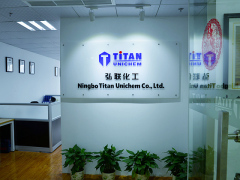 Ningbo Titan Unichem CO., LTD. (TITAN UNICHEM) is located in Ningbo city, which is famous for its 7,000 years history of Hemudu Site, brilliant culture and second biggest seaport in China.

TITAN UNICHEM is committed to supplying chemical products to globally valuable customers spanning multiple industrial segments, including Food Additives, Industrial Chemicals, Petrochemicals, Pharmaceuticals, Fertilizers, Agrochemicals, etc.

TITAN UNICHEM with years experience in chemical industry, fully understands customer requirements and provides custom synthesis, one-stop strategic sourcing and requested value-added service.

TITAN UNICHEM has been developing chemical business in countries and regions covering Brazil, Columbia, Argentina, Chile, Paraguay, Uruguay, Ecuador, Peru, Mexico, Guatemala; Russia, Ukraine, Slovak, Poland; Thailand, Vietnam, Kazakhstan, Georgia; Egypt, Kenya, Cameroun, Ghana, Nigeria, South Africa, etc.

TITAN UNICHEM will step forward to the targets in a continuous effort to provide customers with healthy, safe and environment-friendly chemicals. With great effort we have been doing, we aim to be your reliable supplier of chemicals in China. The future will surely bring new challenges and opportunities, and we sincerely hope to achieve success with all partners hand in hand and shoulder to shoulder!

-- OUR VISION
● To be a famous integrated provider of chemicals

-- OUR MISSION
● Provide one-stop supply solutions and value-added services

-- OUR PHILOSOPHY
● Honor every commitment
● Adhere to win-win cooperation

-- OUR ASSOCIATED COMPANIES
● Ningbo Haixin Group
● Jintan Wishchem Co., Ltd.
● Ningbo Suncare Unichem Ltd.