Dipentaerythritol 90% Di-PE CAS 126-58-9
Product Description
Payment & Shipping Terms
Supply Capacity
Unit Price:
1350.0 USD
Production Capacity:
800 Metric Tons per...
Trade Term:
FOB,CFR,CIF,EXW
Packing:
400kg woven bag.
Payment Terms:
O/A, L/C, D/A, T/T
Delivery Date:
Prompt shipment within...
Min. Order:
10 Metric Ton
Means of Transport:
Ocean, Land
Common Name:

Dipentaerythritol

Synonyms:

Di-PE;

Di-Pentaerythritol;

CAS No.:

126-58-9

EINECS No.:

204-794-1

Appearance:

White crystalline powder

Density:

1.38

Melting Point:

205-225°C

Boiling Point:

356°C

Water Solubility:

0.29 g/100 mL (20°C)

Stability:

Hygroscopic

Molecular Formula:

C10H22O7

Molecular Weight:

254.28
Specifications:
Specifications of Dipentaerythritol
Product name: Dipentaerythritol

Manufacturer: Ningbo Titan Unichem Co., Ltd.

TEST ITEMS

SPECIFICATIONS

Dipentaerythritol

85.0% min

90.0% min

Pentaerythritol

4.0% max

2.0% max

Tripentaerythritol

10.0% max

8.0% max

Hydroxyl

38-40%

38-40%

Moisture

1.0% max

0.5% max

Ash

0.1% max

0.1% max

Melting Point

205-224°C

205-224°C

Color

2 max

2 max
Pictures: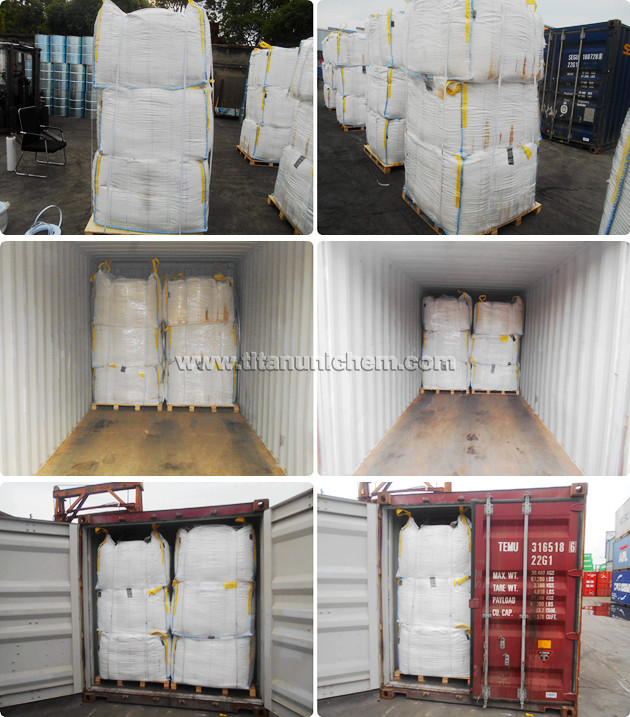 Loading of Dipentaerythritol from TITAN UNICHEM.
Loading of Dipentaerythritol from TITAN UNICHEM.
Descriptions:
Dipentaerythritol is a white crystalline powder with odorless.
Dipentaerythritol is no poison to animal, no stimu-late to skin, no pollution to environment.
Dipentaerythritol is slightly soluble in water, and little soluble in most organic solvent.
Uses:
Di-pentaerythritol is mainly used in used in the manufacture of plasticizers, lubricants, waxes and fire-retardant composition.
Dipentaerythritol is an important fine chemical intermediate.
Dipentaerythritol is mainly used as the material for alkyd resin and rosin esters.
Dipentaerythritol is used for printing inks, industrial coating, varnish and paint.
Dipentaerythritol can be also used to produce fire-retardant products.
Contact Information:
Attn: Ms. Hannah SUN
Skype: hannahsun007
Tel: 86-574-8816 4570
WhatsApp: 86-136 1659 3691
Email: hannah (at) titanunichem.com
Category: Alcohols
Related Category: Sulfates Phosphates Oxides Other Inorganic Salts Organic Salts