HCOONa Sodium Formate suppliers CAS 141-53-7
Product Description
Payment & Shipping Terms
Supply Capacity
Unit Price:
500.0 USD
Production Capacity:
600 Metric Tons per...
Trade Term:
FOB,CFR,CIF
Packing:
As per customer's...
Payment Terms:
O/A, L/C, D/P, D/A, T/T
Delivery Date:
Prompt shipment within...
Min. Order:
25 Metric Ton
Means of Transport:
Ocean, Land
Common Name:

Sodium Formate

Synonyms:

Formic acid sodium salt;

Formic acid Na Salt;

Mravencan Sodny.

CAS No.:

141-53-7

EINECS No.:

205-488-0

Appearance:

White crystal powder

Density:

1.16

Flash Point:

29.9 ºC

Melting Point:

259-262 °C (lit.)

Stability:

Stable. Incompatible with strong oxidizing agents, strong acids.

Protect from moisture.

Molecular Formula:

NaCOOH

Molecular Weight:

68.01
Specifications:
Specifications of Sodium Formate 98%
Product name: Sodium Formate

Manufacturer: Ningbo Titan Unichem Co., Ltd.

Items

Specifications

Appearance

White crystal powder

Main content

98.0% min

NaOH

0.5% max

Na2CO3

0.5% max

NaCl

0.35% max

Na2S

0.1% max

Moisture

0.5% max

Water Insolubles

1.0% max
Pictures: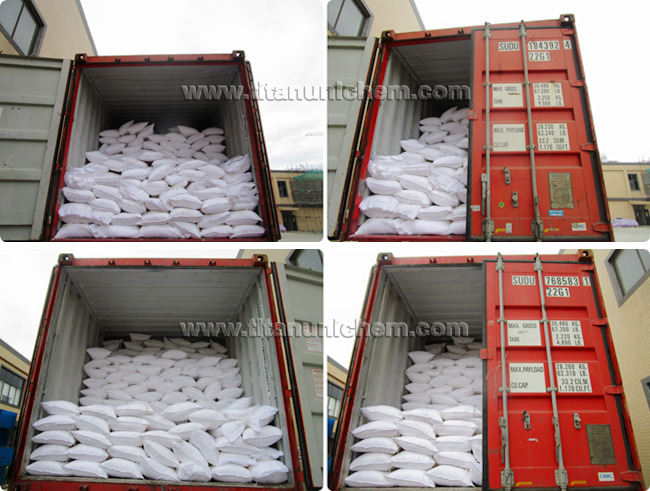 Loading of Sodium Formate from TITAN UNICHEM.
Loading of Sodium Formate from TITAN UNICHEM.
Packaging:
Packed in 25Kg PP-PE woven bag;

Or package as per customer's request.
Storage & Handling:
Keep in a tightly closed container, stored in a cool, dry, ventilated area.

Protect against physical damage.

Containers of this material may be hazardous when empty since they retain product residues.
Uses:
Reductive bleaching agent: Sodium formate is used to improve the brightness and color in

Tanning of leather: Sodium formate stabilize the chromium, resulting in better leather quality. It is used for better penetration and tanning time reducing.

Deicing chemical: Sodium formate is less corrosive and undergoes fast melting action relative to other deicing chemicals.

Raw material: Sodium formate chemically reduces other components by donating an electron or electrons. Sodium formate is used in the manufacture of sodium hydrosulfite, a common reductive bleaching chemical.

Buffering agent: Sodium formate improves both desulfurization efficiency and increasing lime absorbent utilization.

Animal feed additive: Sodium formate is an efficient feed additive as it improve digestibility.

Sodium formate is also used in liquid detergent as a builder or an enzyme stabilizer. It is used in dyeing, in electroplating, in silage preservation.
Contact Information:
Attn: Ms. Hannah SUN

Skype: hannahsun007

Tel: 86-574-8816 4570

WhatsApp: 86-136 1659 3691

Email: hannah(at)titanunichem.com
Category: Organic Salts
Related Category: Nitrates Chlorides Carbonates Amines Alcohols